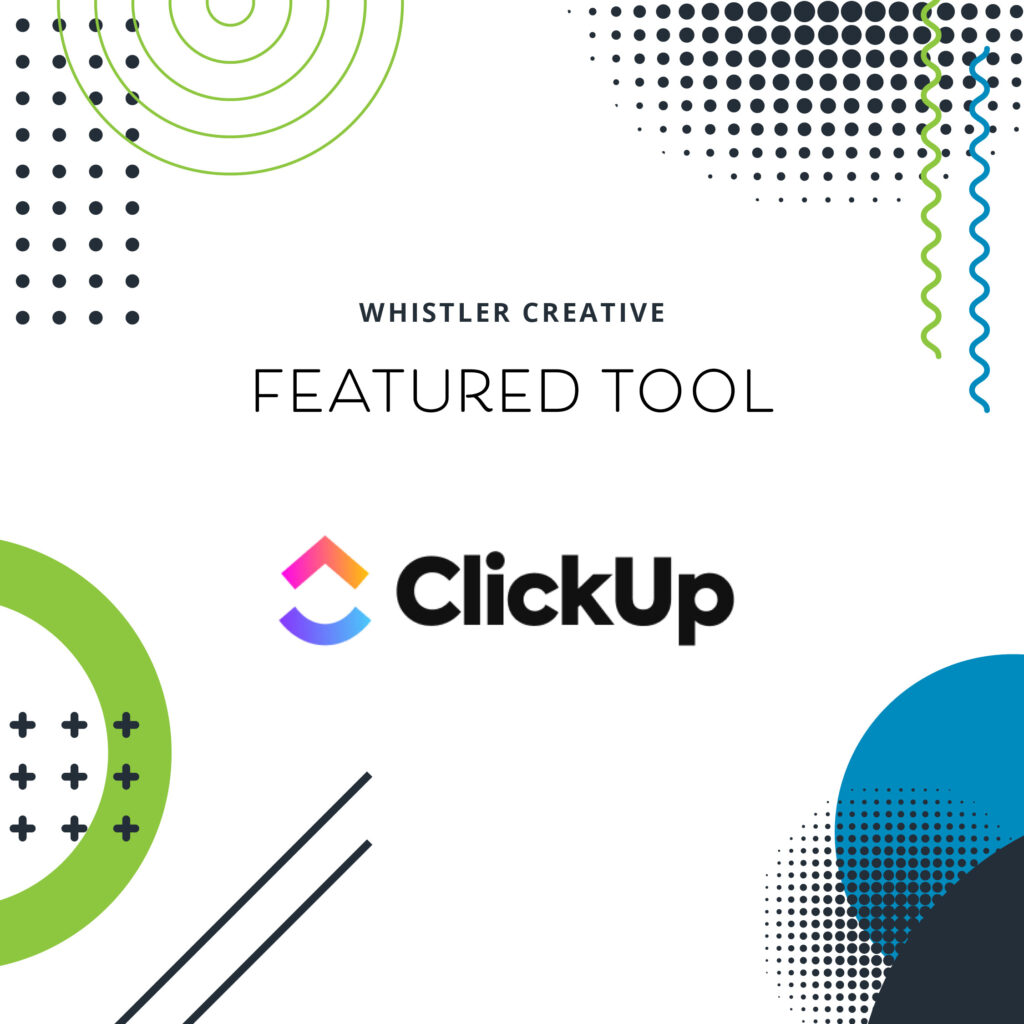 'One app to replace them all' is ClickUp's slogan and this has definitely been true for Whistler Creative. We stumbled across ClickUp after testing and trialing numerous other project management systems such as Asana, Trello, Monday, Wrike, Plutio, Basecamp, Teamwork – which all fell short in some way or another whether it be price, features, or support.
Over the past 2 years, we have migrated all of our project, client and business management, promotional and marketing planning, and communication over to ClickUp. Here is a brief overview and review of some of the areas that ClickUp has helped our business:
Project Management
All of our client projects and tasks are managed through ClickUp. We utilize the forms and templates to streamline the onboarding process and reminders to keep us on track and not miss any deadlines. Plus time tracking, team, and client communication are all stored within the task so that nothing falls through the cracks.
Website Maintenance Plan and Support Ticket Tracking
We track all our website maintenance clients through a ClickUp list and utilize custom fields to keep track of all the individual details and renewal dates. ClickUp also integrates with our support ticket desk to help us complete client support tasks in a timely fashion.
Social Media Calendar & Marketing Planning
The calendar feature of ClickUp is a major feature that most other project management systems don't have. Within the calendar, we plot out all our marketing posts including social media, newsletters, and blogs. Using ClickUp as a planning tool we are able to integrate the planning calendar, text documents, and team communication all in one place.
Knowledge Base and Documentation
The Document feature in ClickUp allows us to create documentation of all our processes and keeps it all in one place. This ensures that it's easily accessible and can be updated easily without moving to another tool. These documents can also be publicly shared when working with outside users.
To-Do Lists
At its core, ClickUp is a to-do list – like most project management tools. However, ClickUp can be set up as basic or as complex as you need. We use these lists for both our personal and business to-do lists, and with reminders and notifications, nothing gets forgotten about.
Their pricing structure is very fair and reasonable compared to most apps we have tried especially for the value. They have a free plan with limited features which is great if you just want to test it out or work solo. From there they have a couple of plan levels ranging from $5/month to $9/month USD per user. (Note: pricing may have altered since writing this article, refer to their website for up-to-date information).
Plus moving to ClickUp means that you can cancel other subscriptions that ClickUp will replace such as Trello, Slack, Asana, Jira, Basecamp, and more.
Due to the wide range of customization available, ClickUp isn't aimed at a particular industry or business niche. It can be tailored to whatever your business or personal needs.
'Save one day every week guaranteed' is another ClickUp slogan that is definitely true for Whistler Creative. Since moving our systems and business management over to ClickUp, we have more time, stay on track and meet our deadlines, and have less administration work.
In conclusion, these are just a small selection of what ClickUp is capable of. There are many other features available such as guest access, goal tracking, workflows and automation, templates, reporting, zoom integration, resource management, and much more. Click here to learn about all of ClickUp's features and to sign up for a free trial today!
Do you use ClickUp? We would love to hear the ways you use it to streamline your business. Send us a message at and let us know!
Check out all the other business tools that we use within Whistler Creative.