The world consumes around 400 million tons of paper each year, accounting for 70% of global warming, and the demand is only increasing. Regular paper stocks are not all made equal and many are made with unsustainable forestry practices. Even certified forestry supply chains are not perfect and can be subject to corruption and standards that are not far-reaching enough for proper forest biodiversity conservation.
As a design studio, one of the ways we are helping to take some pressure off lumber extraction for paper/pulp is by providing tree-free, sustainable paper stock options to our clients for consideration for their print projects. Switching to alternative paper can help save millions of acres of forest and wildlife habitats.
Here we have listed the 8 most common, affordable and sustainable paper options for your consideration. These options consist of either annual crops, which generate in a year or less, or use scraps that would have otherwise been disposed.
Tree-free sustainable paper stocks will help you reduce waste and pollution while also creating something beautiful and impactful.
Sustainable paper options: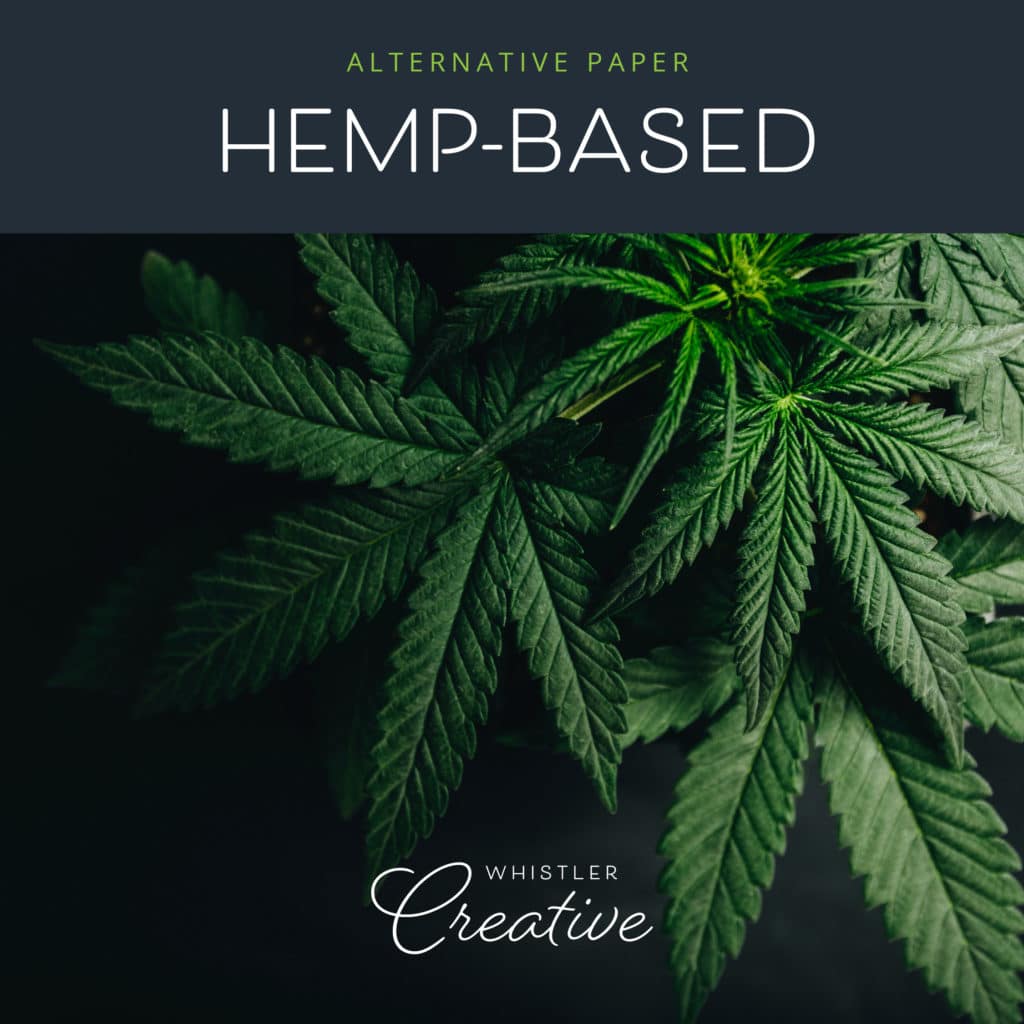 Hemp is one of the best alternatives that you can find for traditional paper. Hemp is a regenerative crop that grows rapidly, maturing in as little as 90 days (compared to tree's which take 7 to 35 years). It requires less chemicals, water and energy to turn into pulp and is extremely sturdy as a fiber. This means it is less harmful to the environment to produce and can be grown more sustainably than wood.
Regulations against hemp production was recently removed in the USA, making hemp-based paper stocks affordable and readily available.
Choose hemp paper if you would like an affordable, eco-friendly high-quality sustainable paper stock with a finish similar to traditional uncoated paper with a natural organic look, sometimes with visible random strands of hemp fibre embedded. Hemp paper is very versatile and can be used to make a vast array of paper products, from business cards to labels, greeting cards and packaging solutions.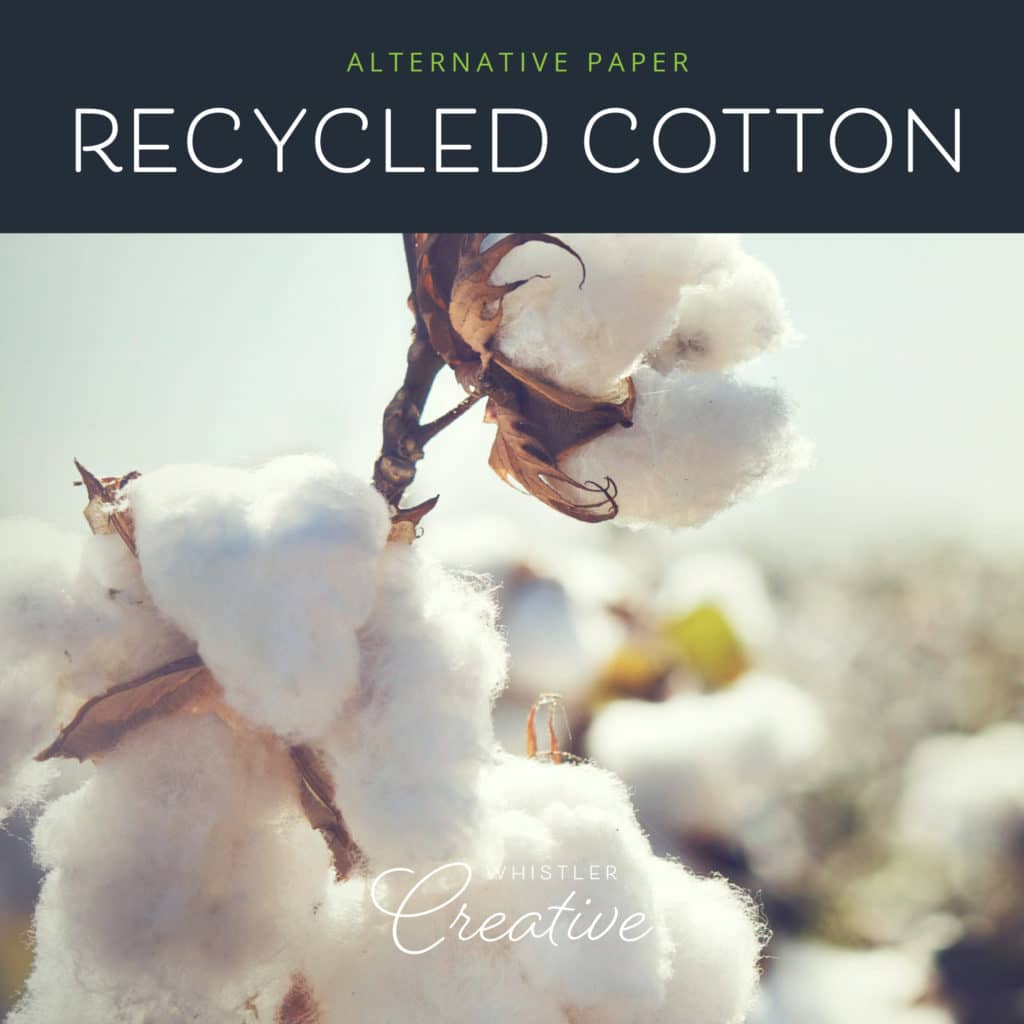 Cotton papers are typically made from recycled cotton textile scraps such as t-shirts or jeans. Fabric waste is one of the leading causes of landfill waste, which increases each year due to the fast fashion industry. It takes 200 years to biodegrade making cotton paper a great way of diverting millions of tons of waste from the landfill each year.
Recycled cotton paper is recommended for business cards and unique packaging solutions as an eco-friendly alternative to traditional paper. It has a soft, subtle texture (similar to US dollar bills) and an elegant finish. Colours printed on cotton paper are richer and have a crisp clear quality.
To purchase Tree-Free Cotton Business Cards try Moo.com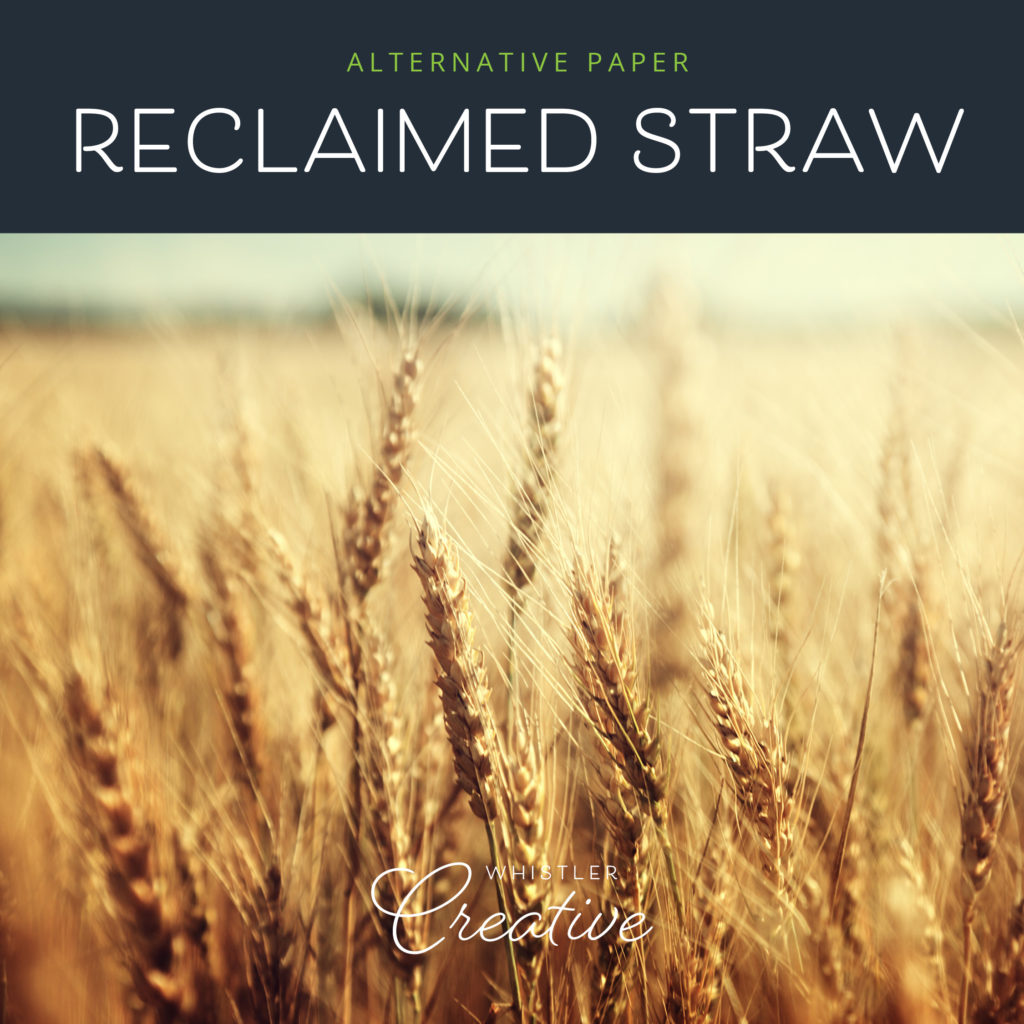 Straw is a byproduct of wheat farming and agricultural activities. Straw-based sustainable paper is made by reclaiming this scrapped straw and wheat which eliminates the need for burning crops to prepare the field for the next cycle, reducing CO2 emissions.
To transform straw into pulp, straw does not need to be pressurized like wood, which saves an enormous amount of energy. The production of straw paper requires 25% less water and 70% less energy than traditional paper.
Reclaimed straw pulp paper can be used in a wide variety of print products and will make your project unique and stand out with its slightly cream or golden tone and texture.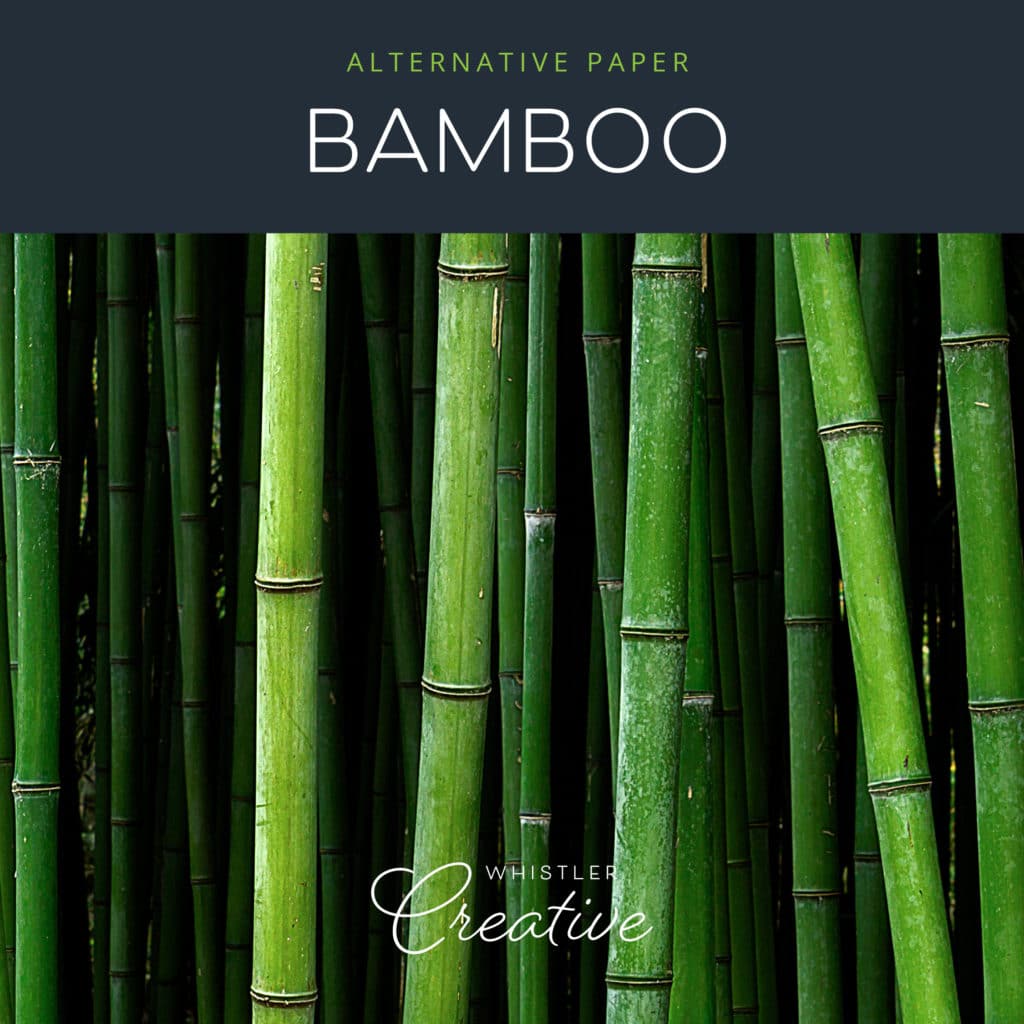 Bamboo is an extremely fast growing grass, which can grow almost anywhere, so its common for bamboo plantations to exist on previously cleared or degraded land – it is here that this renewable crop can be sustainably harvested to make paper and fabrics.
However, the process of turning bamboo into paper is still chemically intensive, similar to traditional papers.
Choose bamboo paper for an eco-friendly alternative for traditional business cards as it typically has a soft, subtle water colour like texture and smooth off-white shade.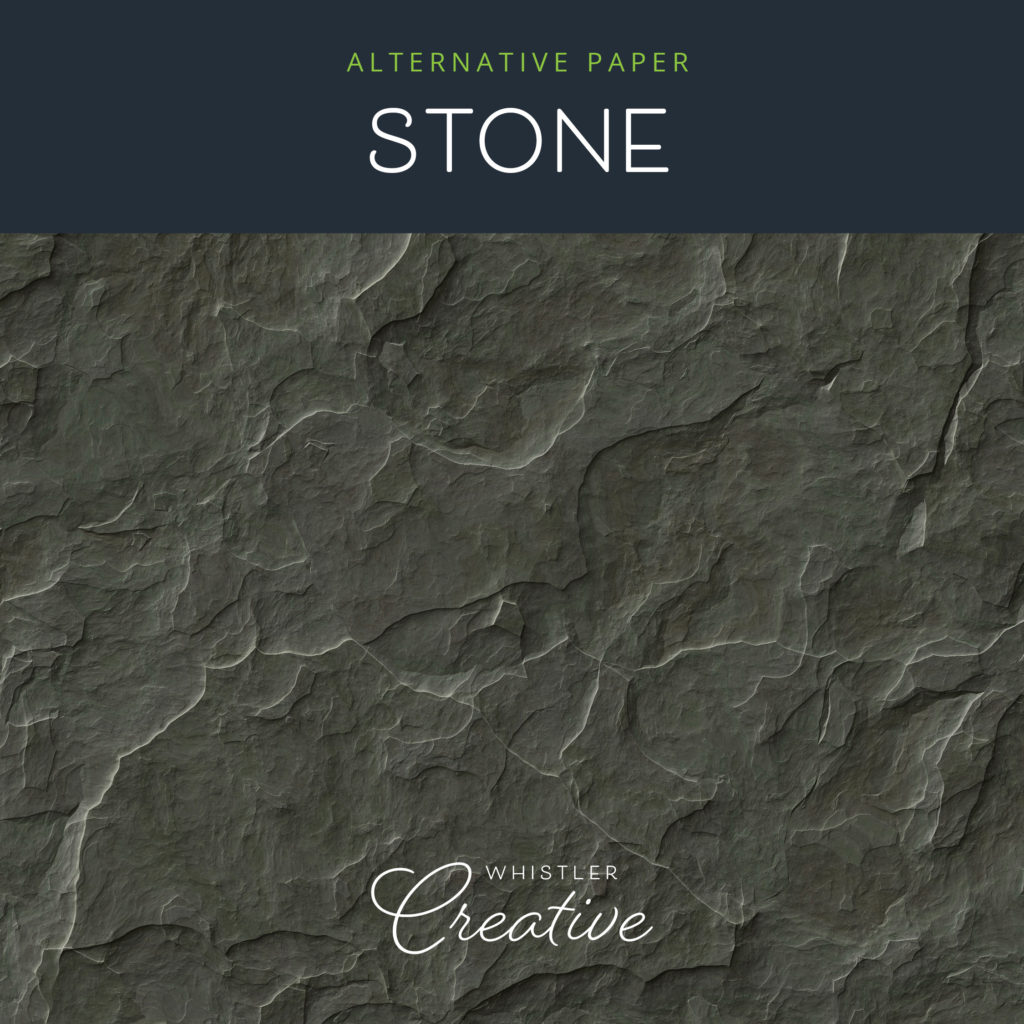 Stone paper is waterproof and extremely durable. It is typically made from materials repurposed from construction waste, such as calcium carbonate or limestone which is then mixed with high density polyethylene resins (HDPE). This is a little bit of a drawback because it means the paper is still dependent on a source of petroleum for its creation. However, the HDPE used for stone paper can be from recycled sources.
Although it uses plastic, it represents an interesting opportunity to alleviate pressure from ancient forests. Stone paper does not require trees, water or chlorine in it's creation, so it has a very low carbon footprint, almost 60% smaller than traditional papers. Stone paper can also be recycled indefinitely.
Choose this eco-friendly option for projects that need the unique characteristics of stone paper, such as its durability and waterproofness.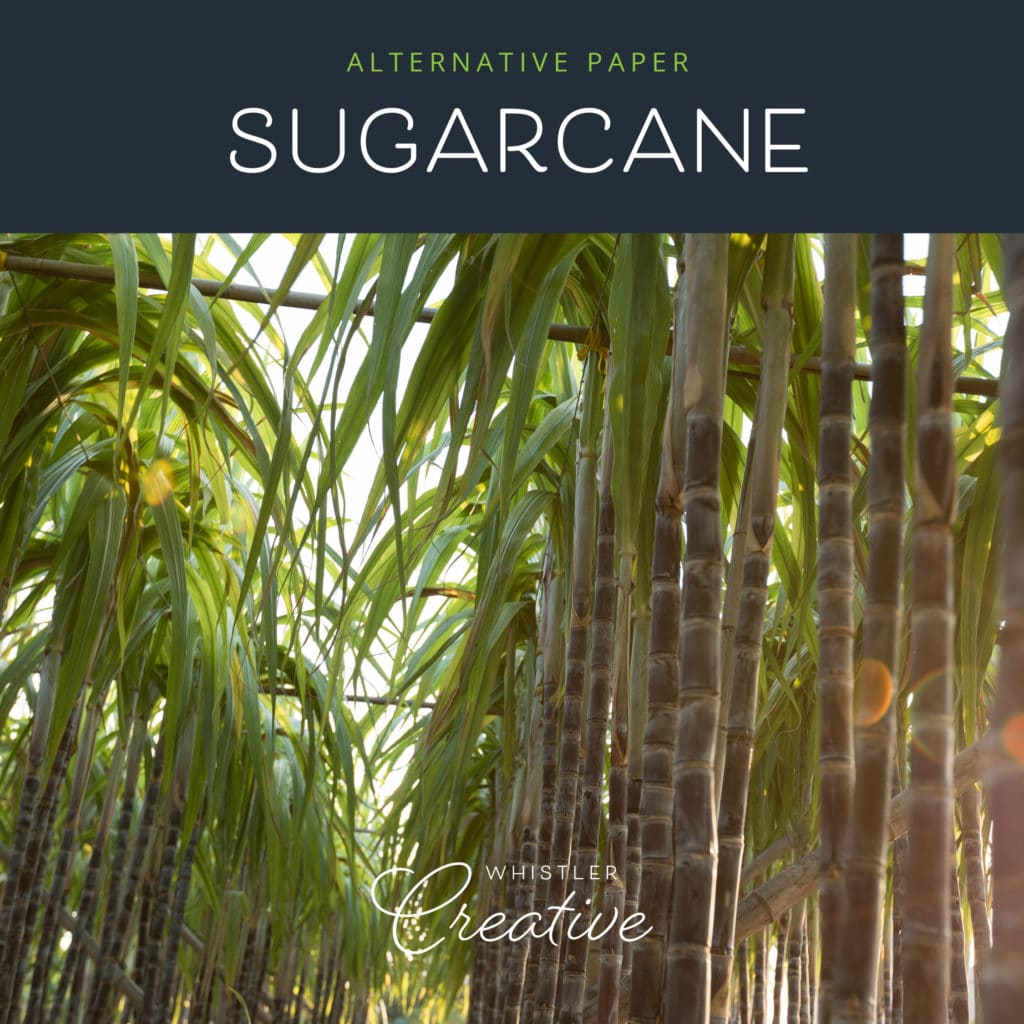 Sugarcane (bagasse) paper is made with the agricultural fiber waste called bagasse. Bagasse is a by-product from the sugarcane plant once it has been harvested for sugar, alcohol juices and biofuel.
With our enormous amount of agricultural waste in the world, sugarcane paper is a great alternative to utilizing this waste instead of otherwise going to landfill sites or being burned into the atmosphere.
Sugarcane paper is an eco-friendly option that is a 'tree-free' product which looks, performs and feels just like paper, as well as being chlorine and acid free, and completely recyclable.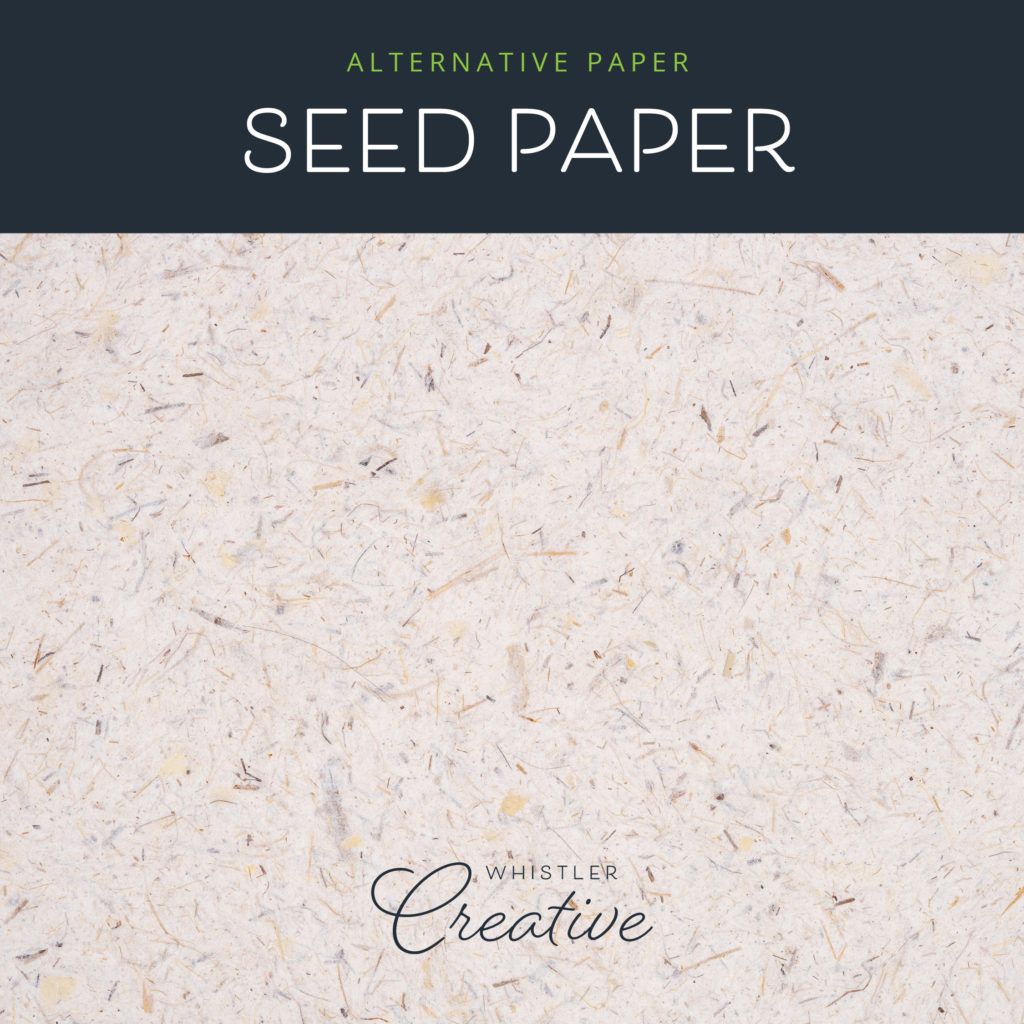 Seed paper is a very unique style of paper. It is an eco-friendly sustainable paper made from post-consumer recycled materials such as cotton or post consumer waste and embedded with wildflower, herb or vegetable seeds.
When you plant the paper after its been printed and used, the seeds in the paper germinate and grow into plants. All the seed paper we source uses Canada-approved seed blends that are non-invasive, non-GMO, and completely safe for planting anywhere in North America.
Choose seed paper for your project for its unique organic look and texture – you can see and feel the seeds that are embedded into the paper. One thing to consider is that depending on the type of printing method used, the success of growing the seeds may vary, as high heat can possibly damage the seeds ability to grow – so its best used for digital printing.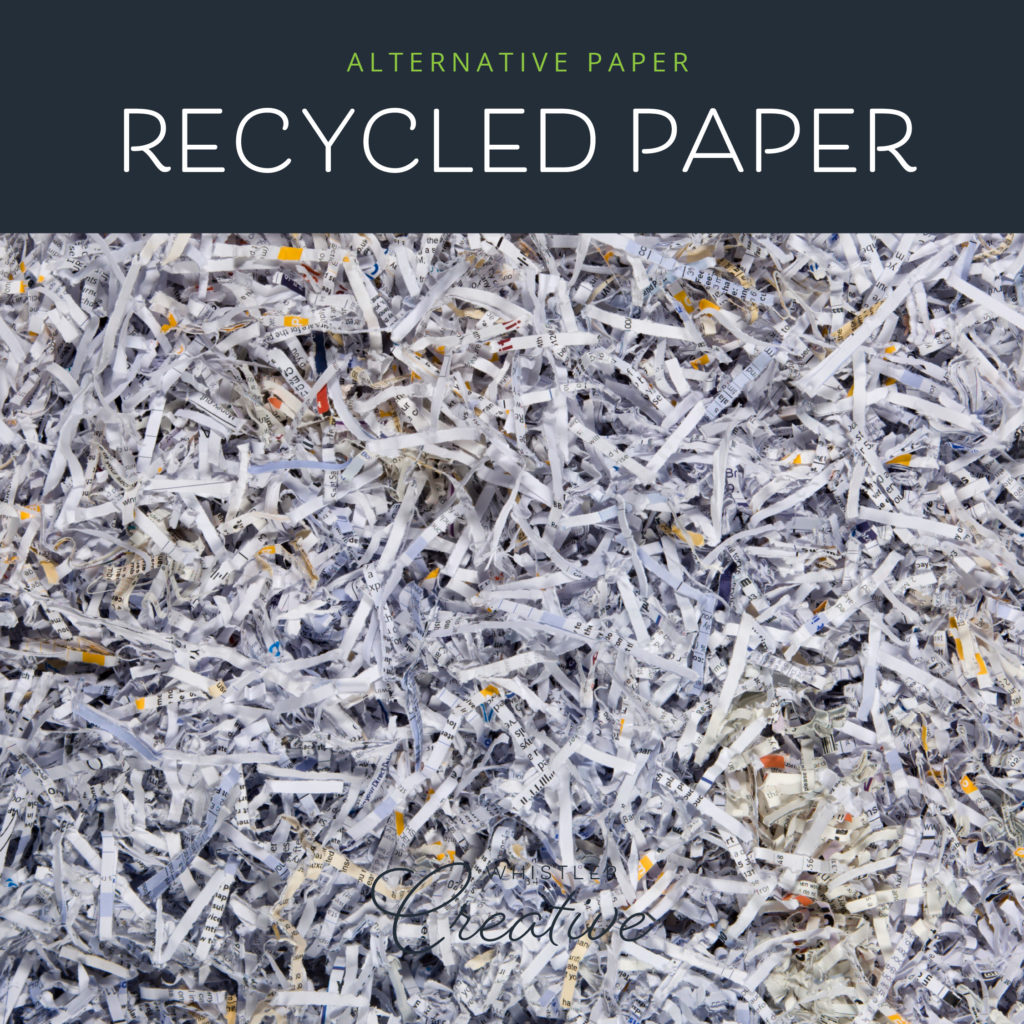 Although not tree-free, using a recycled paper made from 100% post consumer waste is always a great sustainable paper choice for your project over virgin fibers.
Post-consumer waste is waste that has been printed and distributed publicly, and then placed into a recycling bin and been successfully recycled. The percentage of recycled content used in paper varies and typically in quantities of 10%, 30%, 50% or 100%. The higher the recycled content in your paper stock, the more eco-friendly it is.
Choose 100% recycled paper if you want the look and feel of traditional uncoated paper, while ensuring zero trees are cut down for your project.
In conclusion, these are just a few options available for alternative sustainable paper that you can use to take a step towards a sustainable and eco-friendly approached within your business.
One of our goals as a design studio is to do our part in helping to reach the global goal where paper production is less reliant on virgin fibre and not associated with loss of biodiversity or forests, that maximizes the use of recycled materials, respects human rights including local people's land rights.
Feeling inspired to use an eco-friendly, sustainable paper stock in your next project? Contact us about your upcoming project and we will work with you to determine the best option for your needs and budget.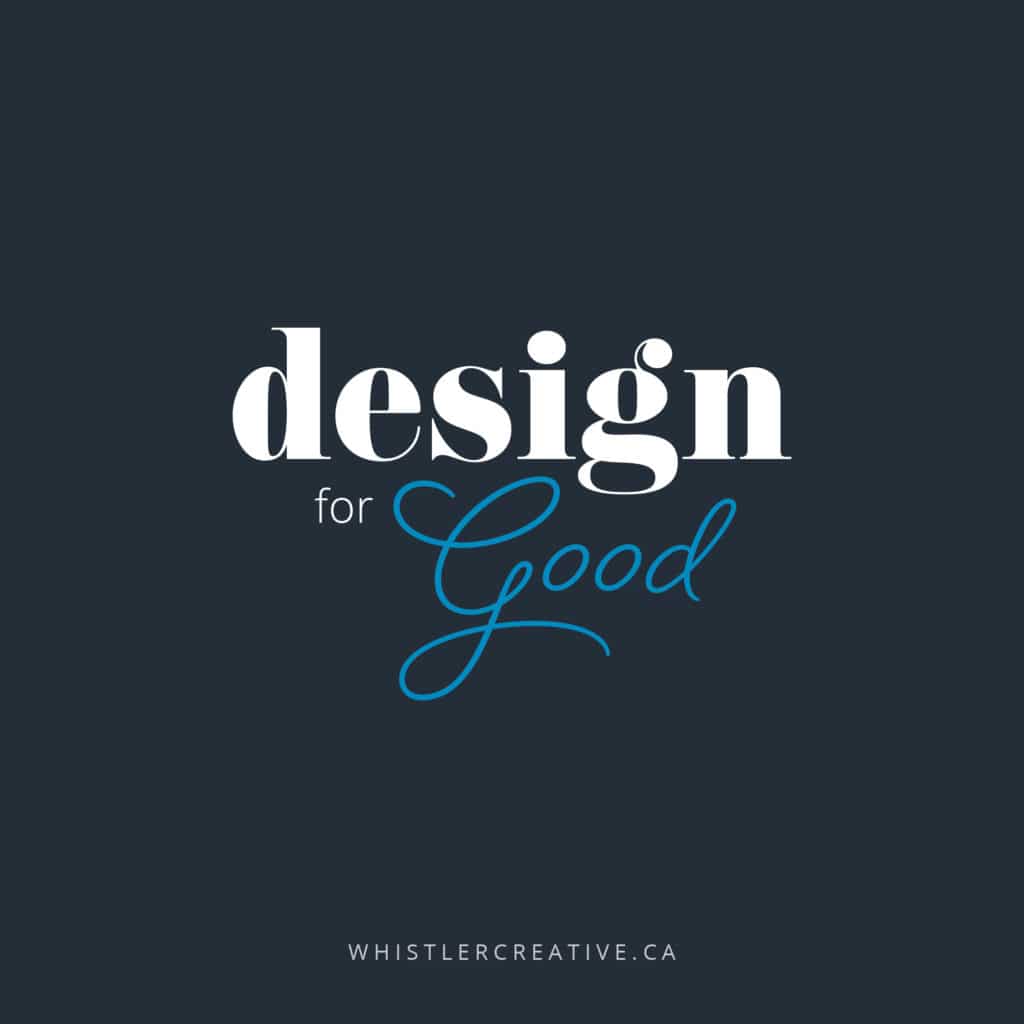 For our March promotion, we are offering a package of Custom Designed and Printed Postcards, aligned to match your brand and printed on eco-friendly hemp card stock. This package includes:
A custom-designed postcard, with 2 rounds of revisions
Printing on tree-free Hemp Card stock
250 4″ x 6″ Full Colour Postcards
10% Donated to BC Women's Health Foundation
Shipping

Your postcards could be used for multi-purposes such as promotions and sales, client appreciation, brand awareness, general information, menus, price lists, and more!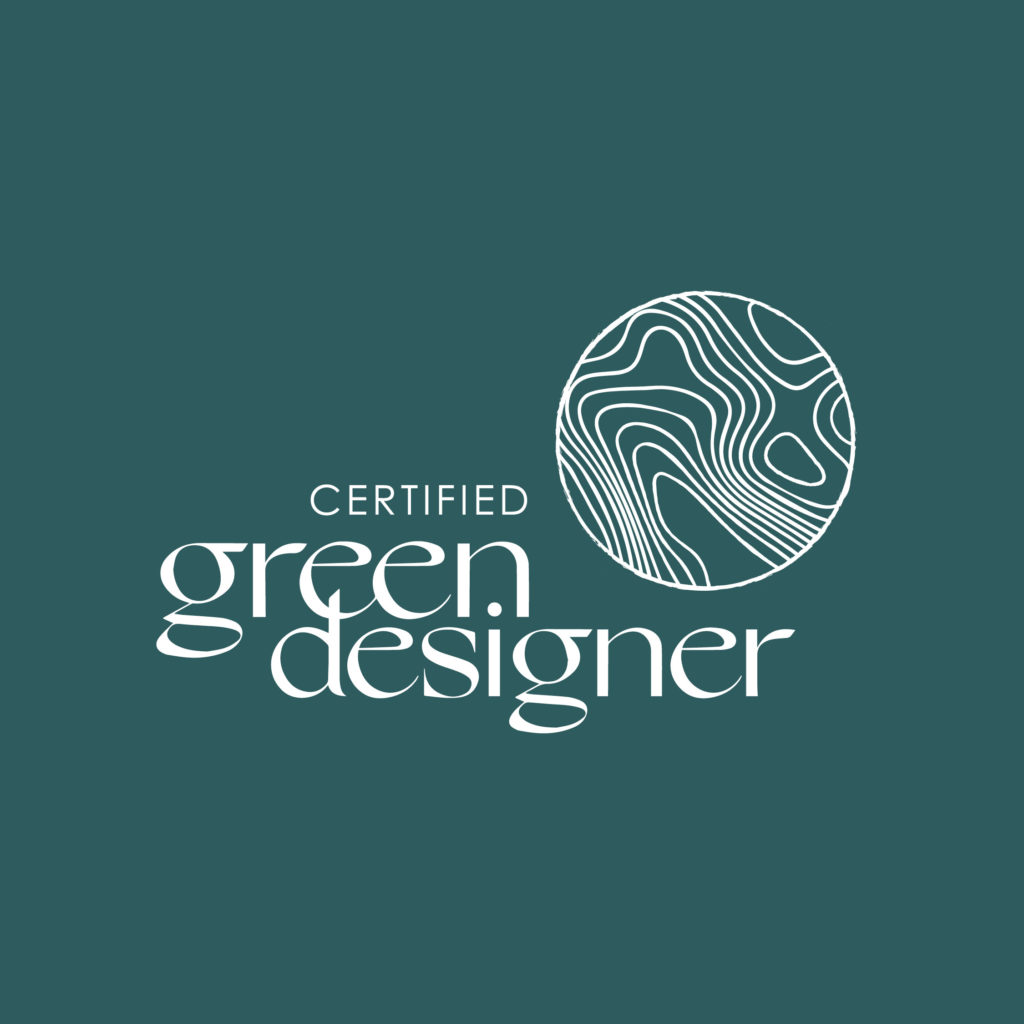 Now you have learnt about the alternative sustainable paper options, where do you go next? 
Whistler Creative is a Certified Green Graphic Design company with over 15 years experience, we can help you with the design, layout and print and paper sourcing for your upcoming project. 
Let's chat about your upcoming eco-friendly project, contact us today.